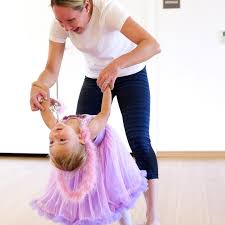 Toddler and You!
(Ages 1.5 to 3)
23/24 Sessions:
September 26 through November 14
January 23 through March 12
April 9 through May 28
Tuesdays 11:00-11:45am
** Special Discount: Second child per family is half price!!
0.75 Hour Class – Parent Assisted
Enjoy this interactive dance class that provides your child with an opportunity to learn dance alongside their parent. Both parent and child will enjoy creative dance while developing important social skills. Remember kids aren't the only ones who make friends at dance! 😉
* Note: This class will run for 8 week sessions and is dependent on enrollment. If you are interested in this class please contact the studio and you will be contacted when a session is scheduled.