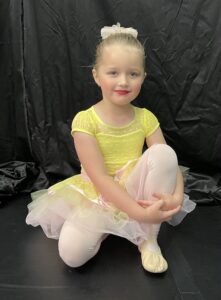 Rhythm & Dance
Ages 3 & 4 – Pre-School Dance Program
These classes qualify for our 20% discount for two pre-school classes
3 Days and times to choose from!
Tuesday Mornings: 10:00am to 10:45am
Wednesday Afternoons: 1:15pm to 2:00pm
Saturday Mornings: 10:00am to 10:45am

This class is specifically designed for the young dancer combining elements of creative movement and an introduction to basic dance positions and steps, musical rhythms, mime, and rhymes.  The Academy loves to introduces pre-schoolers to the excitement  of dance and movement!  These young dancers are always especially entertaining in our year end show!
Let your child's love of dance begin at DAPR!
DAYCARES: Contact us to create a special class for your daycare at a special price!
Register Now!